Overview
The plantar fascia is a thick band of connective tissue that runs along the underneath of the foot from the heel bone to the toes. At the heel it can also have fascial connections to the achilles tendon. Its job is to maintain the arch of the foot, it acts as a bowstring pulled between the heel and the toes. "Itis" as a suffix indicates inflammation, but with the plantar fascia there is still some controversy over what exactly happens to the tissue when it becomes painful.
Causes
Plantar fasciitis is caused by small, repetitive trauma to the plantar fascia. This trauma can be due to activity that puts extra stress on the foot. Plantar fasciitis is most common in people who are 40-60 years old. Other risk factors that increase your chance of getting plantar fasciitis include physical exertion, especially in sports such as running, Volleyball, tennis, a sudden increase in exercise intensity or duration, physical activity that stresses the plantar fascia. People who spend a lot of time standing, a sudden increase in activities that affect the feet, obesity or weight gain, pre-existing foot problems, including an abnormally tight Achilles tendon, flat feet, or an ankle that rolls inward too much. Poor footwear. Heel spurs.
Symptoms
The most common symptoms of plantar fasciitis include pain on the bottom of the foot near the heel, pain with the first few steps after getting out of bed in the morning, or after a long period of rest, such as after a long car ride. The pain subsides after a few minutes of walking. Greater pain after (not during) exercise or activity.
Diagnosis
A health care professional will ask you whether you have the classic symptoms of first-step pain and about your activities, including whether you recently have intensified your training or changed your exercise pattern. Your doctor often can diagnose plantar fasciitis based on your history and symptoms, together with a physical examination. If the diagnosis is in doubt, your doctor may order a foot X-ray, bone scan or nerve conduction studies to rule out another condition, such as a stress fracture or nerve problem.
Non Surgical Treatment
Shoe therapy, finding and wearing shoes that allow your feet to be in their natural position, is the most important treatment for plantar fasciosis. Shoes that possess a flat heel, are wide in the toe box, lack toe spring, and have flexible soles are most appropriate for this foot problem. An increasing number of shoe companies are producing shoes with these design characteristics, but shoes that include all these features are still difficult to find. For some suggested footwear models, see our clinic's shoe list. Most conventional footwear can be modified by stretching the shoe's upper, stretching out the toe spring, removing the shoe's liner, and cutting the shoe at certain key points to allow more room for your foot. Visit your podiatrist to help you with these shoe modifications. Correct Toes is another helpful conservative treatment method for plantar fasciosis. Correct Toes addresses the root cause of your plantar fasciosis by properly aligning your big toe and reducing the tension created by your abductor hallucis longus on the blood vessels that feed and "cleanse" the tissues of your plantar fascia. Your plantar fasciosis-related pain will diminish when the dead tissue is washed away. A rehabilitation program, which includes targeted stretches and other exercises, for your foot may be helpful too. Dietary changes and aerobic exercise are particularly important for overweight individuals who have plantar fasciosis. Water aerobics may be most appropriate for those individuals whose pain does not allow them to walk or cycle. Physical therapy may be another helpful treatment modality for this problem, and includes ultrasound, electrical stimulation, contrast baths, and range-of-motion exercises. Massage, acupuncture, reflexology, and magnet therapy are holistic approaches that may be helpful.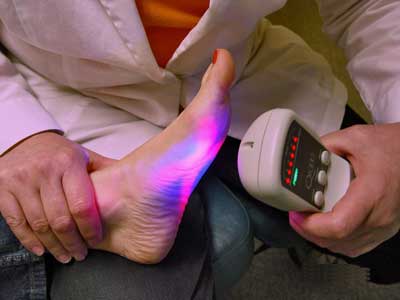 Surgical Treatment
In unusual cases, surgical intervention is necessary for relief of pain. These should only be employed after non-surgical efforts have been used without relief. Generally, such surgical procedures may be completed on an outpatient basis in less than one hour, using local anesthesia or minimal sedation administrated by a trained anesthesiologist. In such cases, the surgeon may remove or release the injured and inflamed fascia, after a small incision is made in the heel. A surgical procedure may also be undertaken to remove bone spurs, sometimes as part of the same surgery addressing the damaged tissue. A cast may be used to immobilize the foot following surgery and crutches provided in order to allow greater mobility while keeping weight off the recovering foot during healing. After removal of the cast, several weeks of physical therapy can be used to speed recovery, reduce swelling and restore flexibility.
Prevention
While there are no sure ways to prevent plantar fasciitis, these prevention tips may be helpful. Keep your weight under reasonable control. Wear comfortable, supportive shoes. Use care when starting or intensifying exercise programmes.